Structural Composite Technologies
Vinyl ester resins are similar in their molecular structure to polyesters, but differ primarily in the location of their reactive sites, these being positioned at the ends of the molecular chains. As the whole length of the molecular chain is available to absorb shock it makes vinyl ester resins tougher and more robust than polyesters.
The vinyl ester molecule also features fewer ester groups. Ester groups are susceptible to water degradation by hydrolysis therefore vinyl esters exhibit better resistance to water and many other chemicals than their polyester resins.
The figures below show the idealised chemical structure of a typical vinyl ester and polyester. Note the positions of the ester groups and the reactive sites (C* = C*) within the molecular chain.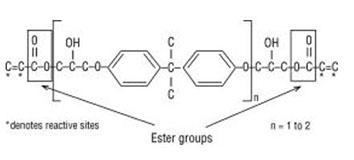 Pultrac uses vinyl ester resin for its pultruded structural supports.
CONTACT
Pultrac Pty Ltd
4 Curban Street
Underwood
Tel: 07 3219 8555
Mob: 0423 005 065
Email: cnorwood@pultrac.com.au

Structural Composite & Sound Absorption Solutions